17:30 Thursday, 08 June 2023
Join the Berlin Worker Center and BEMA (Berliner Beratungszentrum Migration und Gute Arbeit) for a community conversation about your rights at work as an immigrant in Germany.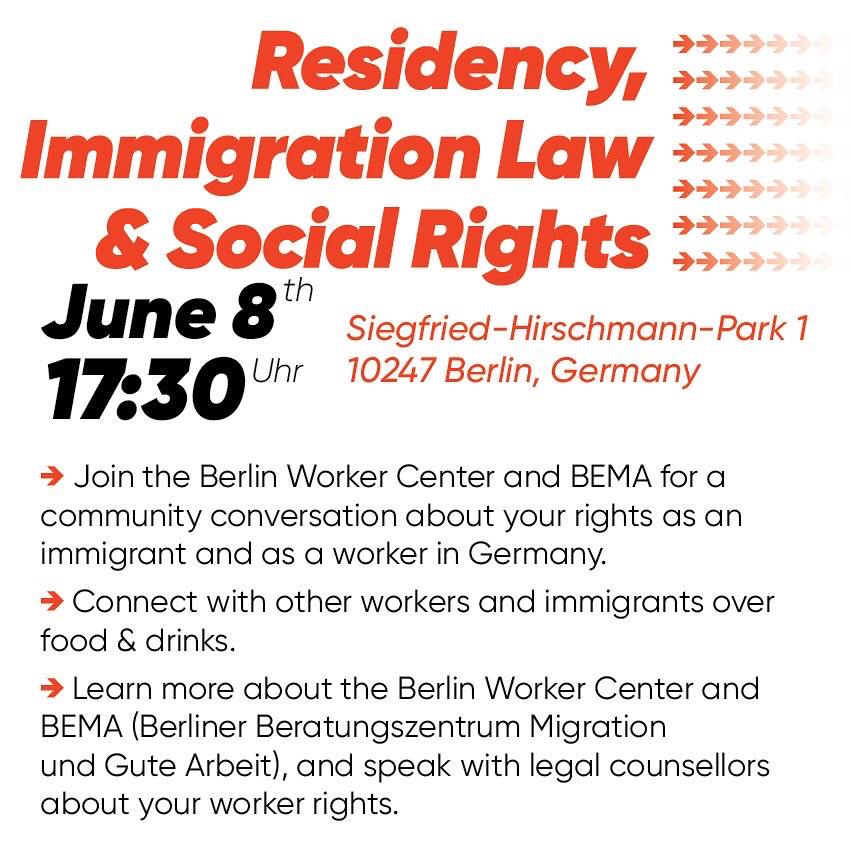 Connect with other workers and immigrants over food & drinks. Full flyer here
The training will cover:
What are some of the challenges I may face in finding employment as an immigrant in Germany?
What are my rights and obligations as a worker on a student visa?
How should I calculate my working hours as a worker on a student visa?
What social benefits am I eligible to receive as an immigrant?
What are some practical tips regarding applications for public benefits or a residence permit?
What are my social rights as an EU citizen? How does freedom of movement and employment actually work?
… and more!
Optionally register below to stay in touch for future upcoming events!
Address
Siegfried-Hirschmann- Park 1
10247 Berlin
Germany
Programme
17:30 Doors open: tea, coffee & snacks
18:00 Workshop begins
19:00 Short break
19:30 Questions
20:00 Wrap up
Code of Conduct
All meetings and communications are covered under the
Berlin Code of Conduct
. The privacy and safety of our members is important to us. Sharing the identity of members and or taking/sharing photos are strictly forbidden unless express consent is given.
Get involved